Update #9 (May 29, 2023)
Dear Tayinat Colleagues and Friends,
The great Tayinat pottery sort begins! With more than 700 crates, totaling hundreds of thousands of sherds, tens of thousands of bone fragments, and thousands of other artifacts and material cultural items, this surely must be one of the largest puzzling exercises in the business. The challenge is daunting, but the positive energy and spirit here are irrepressible and contagious. With Lynn Welton as pottery maestro, together with Filiz Dolğun, Rubar Yavuz, and Zeynep Kuşdıl Sak, they make a fearsome team, and an inspiration to watch; I do well to stay out of the way! The Tayinat Depot inventory and recovery is now well underway and in great hands.
We are enormously grateful for the opportunity to undertake this exercise within the grounds of the Atchana Expedition Compound (Kazı Ev), a truly peaceful oasis amidst the agony and suffering around us. Yet, even as I write, the relentless pounding and grinding of the ongoing demolition and removal of homes is a pervasive reminder of the devastating tragedy that is this place.
All for now,
Tim Harrison
Update #8 (May 9, 2023)
Dear Tayinat Colleagues and Friends,
I am writing to you from Tayfur Sökmen, and more specifically, the Atchana Expedition excavation compound, or Kazı Ev, about 3 km east of Tayinat, in the Amuq Plain (Amik Ovası), just outside of Antakya. It has been a remarkable week, intense, emotional, and powerfully moving. I am here with Lynn Welton, Zeynep Kuşdıl Sak, Filiz Dolğun, Rubar Yavuz, and Edip and Katibe Dinç, our faithful site guard (bekçi) and cook. We are here at the gracious invitation and generosity of Murat Akar, Director of the Atchana Expedition. One of the more striking realities we have observed has been the seeming 'randomness' with which the earthquakes wreaked their destruction, destroying and devastating one building, or community, but sparing the next.
Much of this past week has been spent visiting colleagues, friends, and our devoted staff. The visits have been emotional, with long, lingering hugs and many tears. We have listened to powerfully moving stories; the grief deep, and the storytelling cathartic (group photo of our visit with Shahide and her husband, who lost his 28-year-old daughter and her family). There has also been laughter and a truly remarkable resilience and spirit of recovery. The signs are everywhere, but for me perhaps most vivid and reflective are the many stalls and portables that have been installed at street corners and along the highway offering traditional Turkish pastries and sweets. The devastation nevertheless is overwhelming and omnipresent, really beyond comprehension, and for me, certainly greater than anything I have witnessed in my time. As one of us commented yesterday, after an emotional drive through the ruins of the old and new city, "That was brutal, a real gut punch." There is no adequate way to describe what we have witnessed. I attach a photo of all that is left of Edip and Katibe's home; the tree used to be visible outside their second-floor living room window, for those of you who had the privilege of being guests in their home.
We have also been busy inspecting our scattered depot and (briefly thus far) the site, and we have almost completed the inventorying, cleaning, and repackaging of our furniture, appliances and staff personal possessions, all of which are in remarkable condition, salvaged from our condemned expedition apartment building, saved, and carefully stored by Edip and his team (see photos). This next week will see a shift of focus to the Tayinat Artifact Depot, starting with the hundreds of crates (and 100s of thousands) of pottery sherds and bone fragments, which are presently in temporary storage in a shipping container in the Hippodrome Expedition Compound adjacent to the Hatay Archaeological Museum in Antakya. These will have to be transported to Tayfur Sökmen, thoroughly inventoried, repackaged, and relabelled where necessary, and then stored in one of the two blue shipping containers we have been permitted to park for the time being at the Atchana Expedition Compound.
I will continue to provide updates as our work progresses.
In the meantime, all the best,
Tim Harrison
Update #7 (April 6, 2023)
Dear Tayinat Colleagues and Friends,
It has been almost a month since my last update. After a brief hiatus for a much-needed break following our immediate interventions to rescue the Tayinat Depot, work has resumed assessing and consolidating the project research collections, and recovering what can be saved from the expedition compound.
This past week Soran Avcil joined Edip and Filiz in Antakya. Soran was able to conduct a detailed onsite assessment of the Basalt Lab in the Hatay Museum, and the team was able to further stabilize and secure the collection in the event of any further earthquake activity, and while the museum undergoes renovation and rebuilding (see photos). Soran was also able to assess the condition of the treated artifact collections that had been stored in the Tayinat Depot, and are now temporarily stored in one of the Tayinat 'portables' on the grounds of the Hatay Museum. These artifacts thankfully virtually all remain intact in their sealed storage containers (see photos).
The second major endeavor this past week has been the recovery of the furniture and material possessions stored in the Tayinat Expedition apartment compound, which has now been slated for demolition. Over the past two days, a team led by Edip was permitted to enter the building and remove what could be salvaged before the building is demolished. Remarkably, despite the extensive destruction (see photos), they were able to remove virtually all of the unbroken furniture and material possessions stored in the building. These were then loaded on trucks and transported to the Atchana Expedition compound at Tayfur Sökmen for storage in the TAP shipping containers that have been parked there for the time being (see photos). This completes our immediate efforts to stabilize the Tayinat Depot and artifact collections, and to recover what can be saved from the expedition compound.
Meanwhile, we have also been in consultation with the Ministry of Culture about our next steps, and we anticipate receiving permission shortly to bring a small team into the field in May and June for a six-week field season that will focus on two primary objectives: (1) a thorough damage assessment of the site of Tayinat, with restoration/repairs of any damage that might be required, and (2) a comprehensive inventory, reassembly and consolidation of the Tayinat Depot (currently housed in multiple shipping containers housed at three different locations) on the grounds of the Atchana Expedition compound. Thanks to their generosity (specifically, Project Director Murat Akar), we have been invited to accommodate our team at the Atchana compound while we are in the field. For those of you familiar with the compound, we are planning to erect a shade cloth over the parking lot area, which will enable us to establish an extensive workspace where we can complete the consolidation/reorganization effort (reminiscent of the 'mouse-capade' reparations at the residential school in Reyhanli in 2010).
We have also continued to provide assistance to the local Tayinat community. Most urgent has been the need for housing and shelter, especially with the start of the spring rains. We have continued to collaborate with the Atchana and Tell Kurdu Projects, purchasing tents for families in several of the villages in the vicinity of Tayinat (in particular, Demirköprü and Varişlı). Thus far, collectively, we have provided close to a hundred tents (see photos). We have also continued to distribute monthly 'grants' to the families of our immediate staff.
None of this would have been possible without the incredible commitment (and sacrifice) of our colleagues on the ground in Antakya, especially Edip Dinc, who continues to grapple with the crushing loss of members of his extended family and community, and of his home.
Yours sincerely,
Tim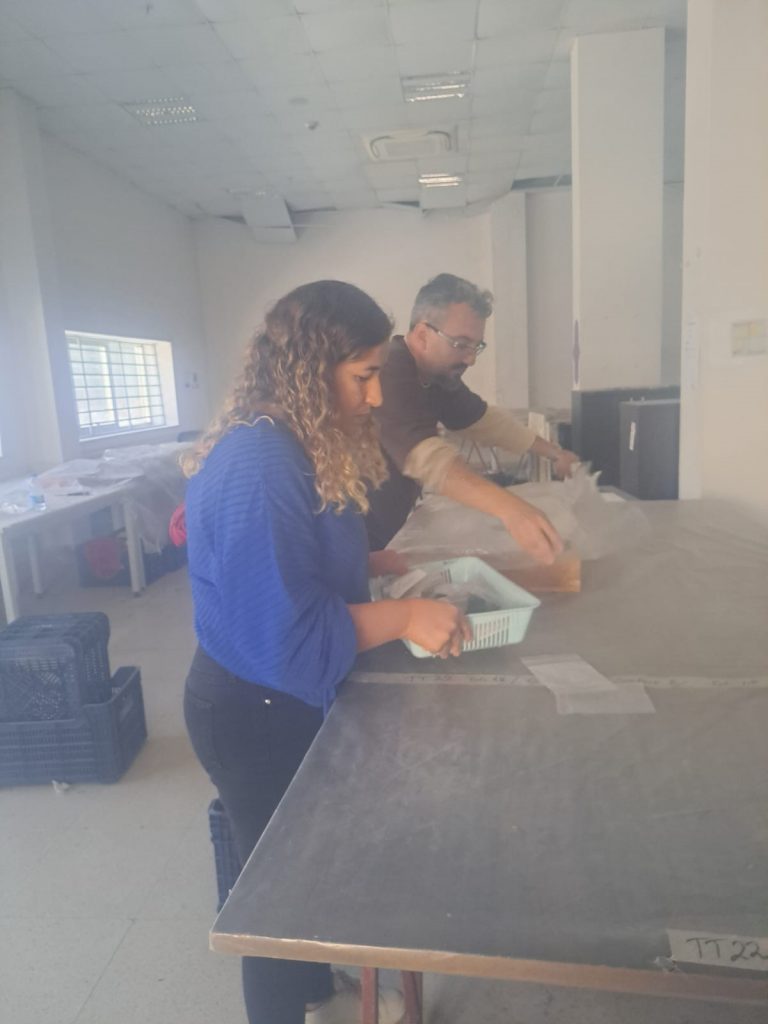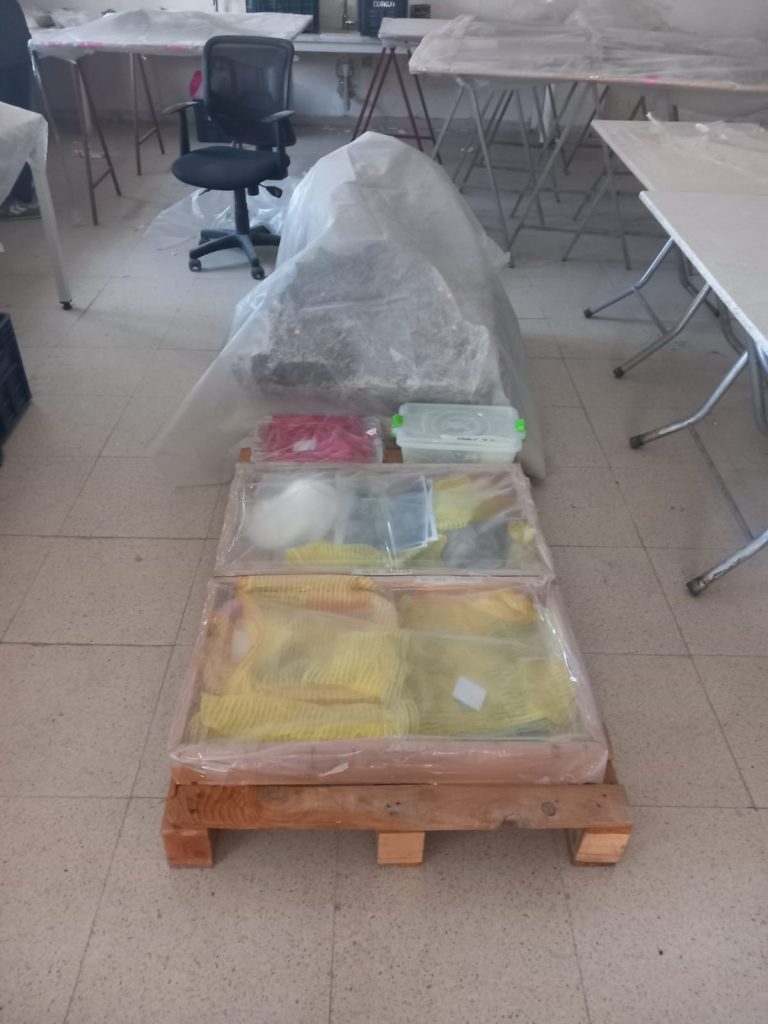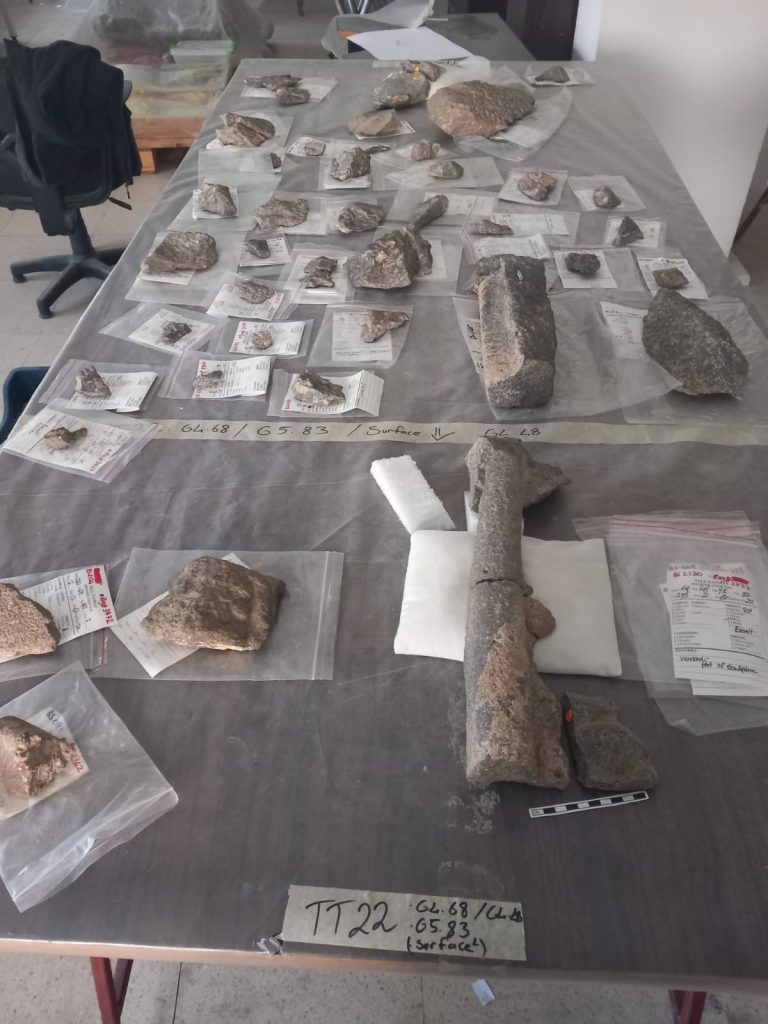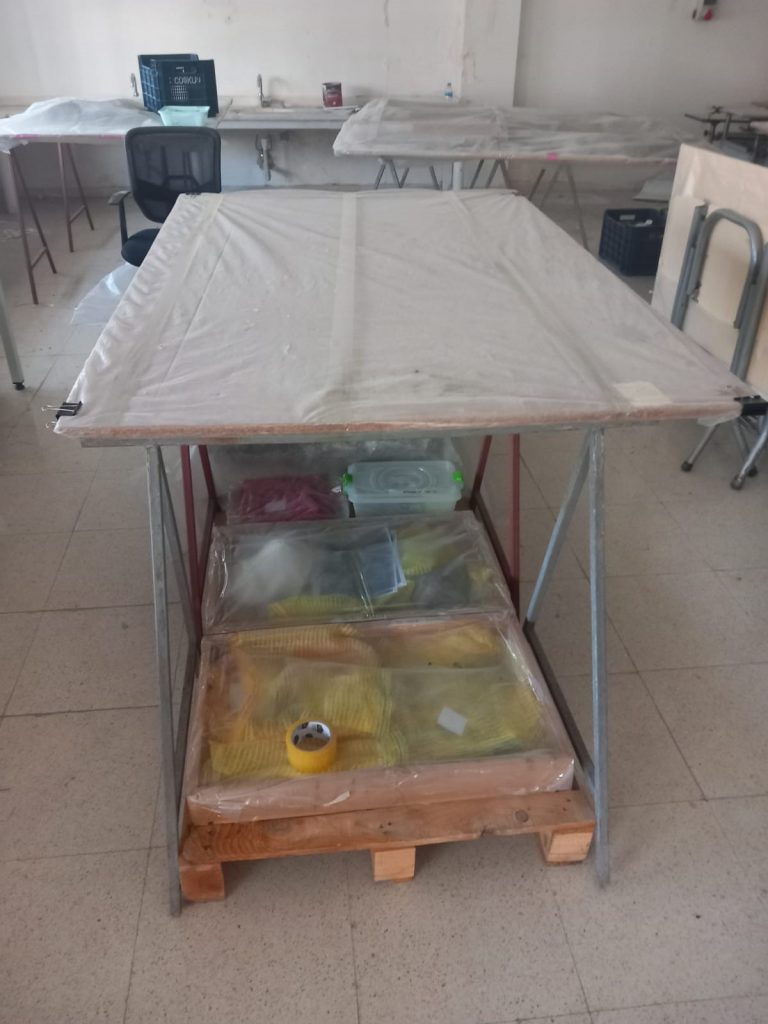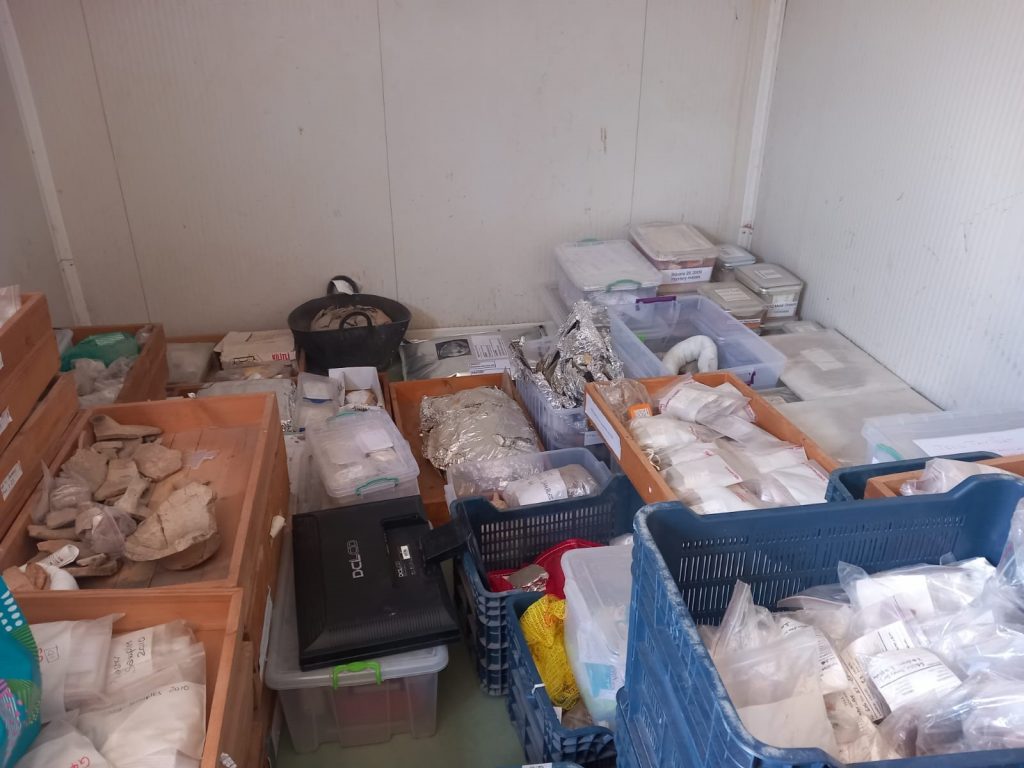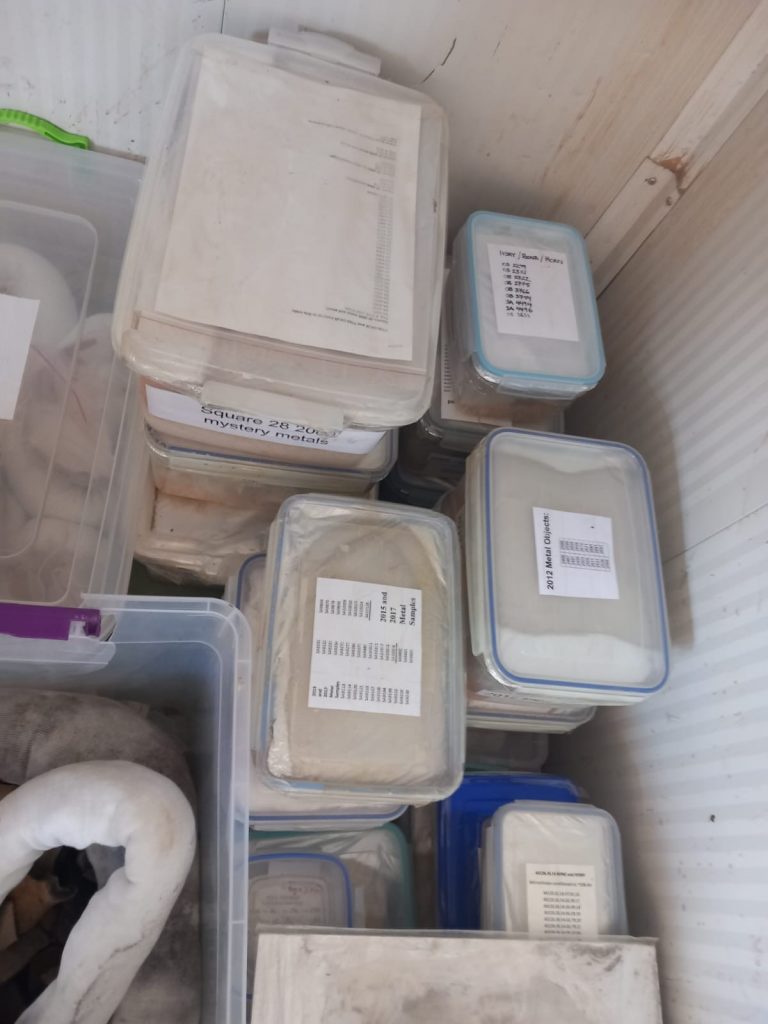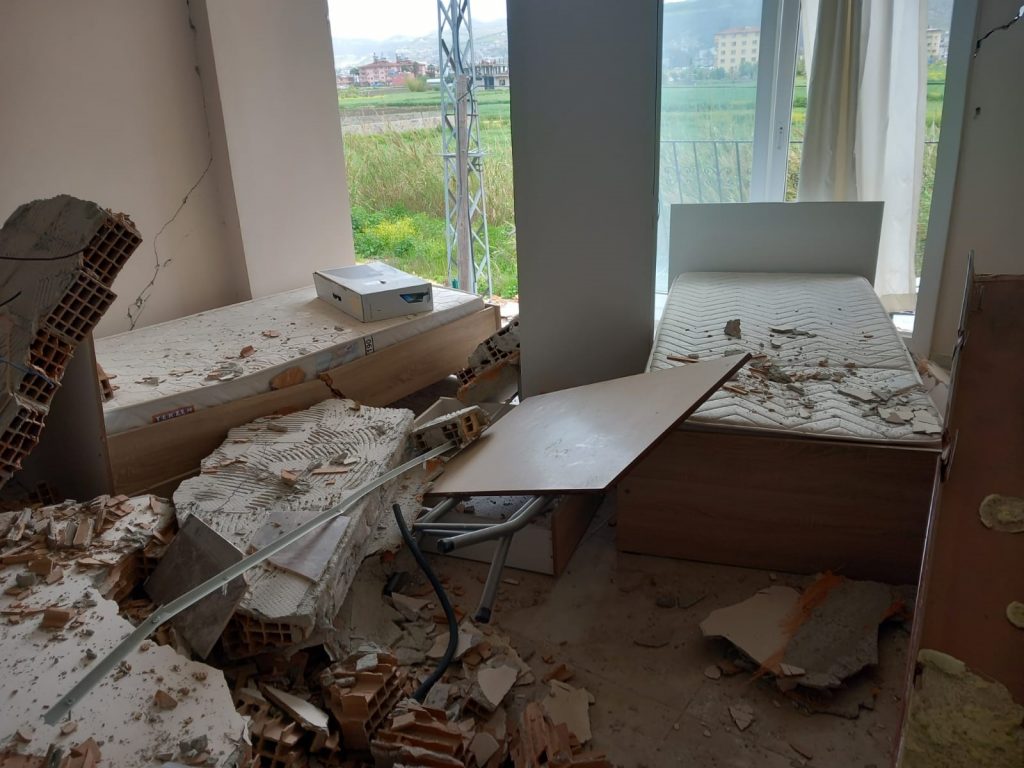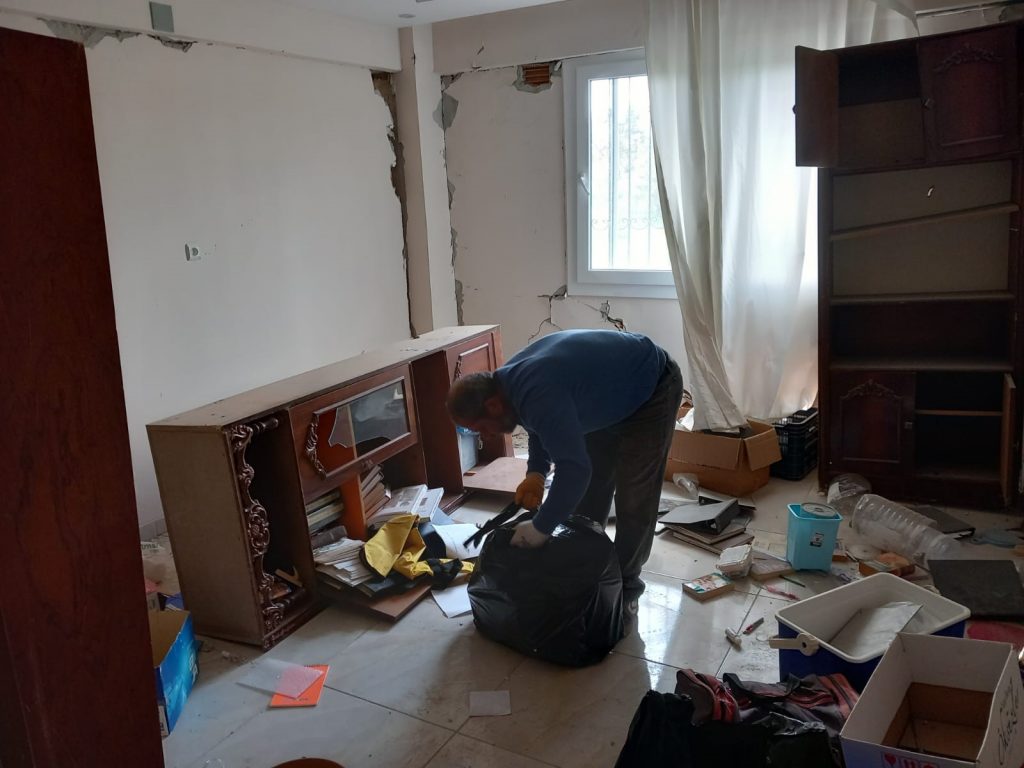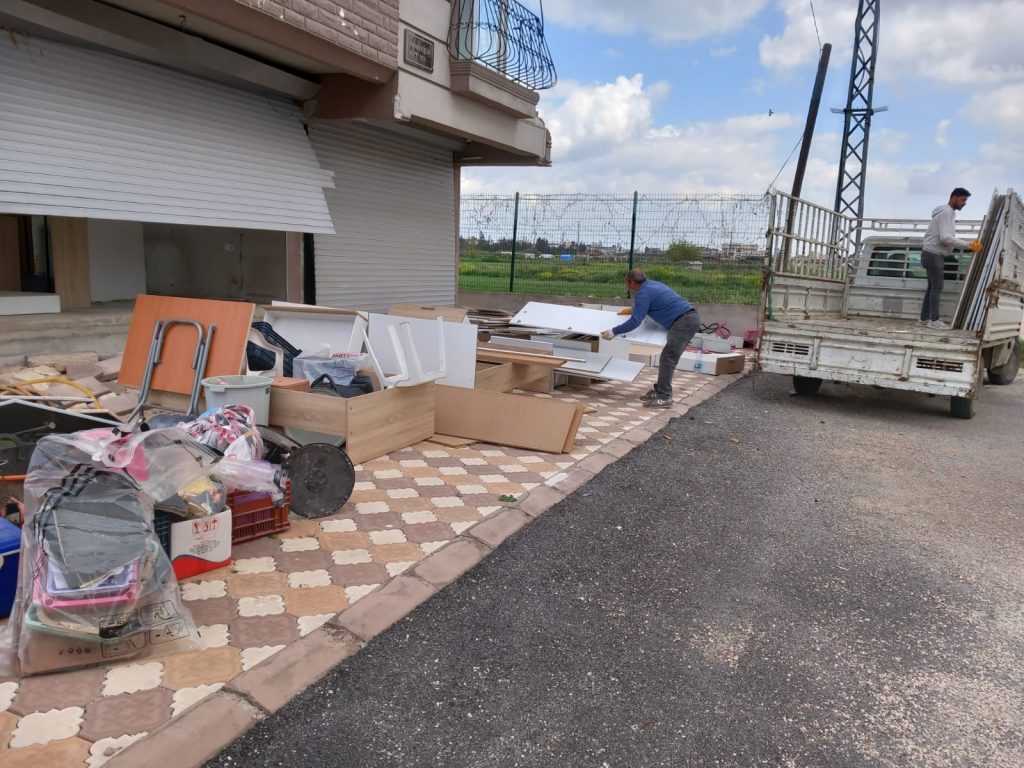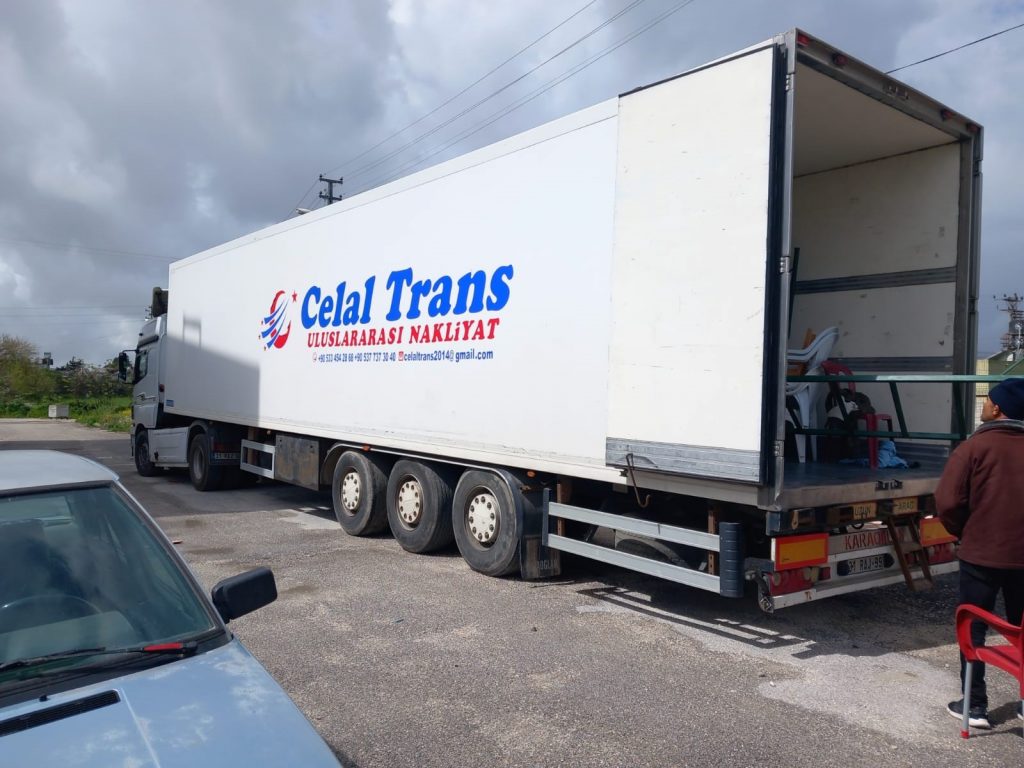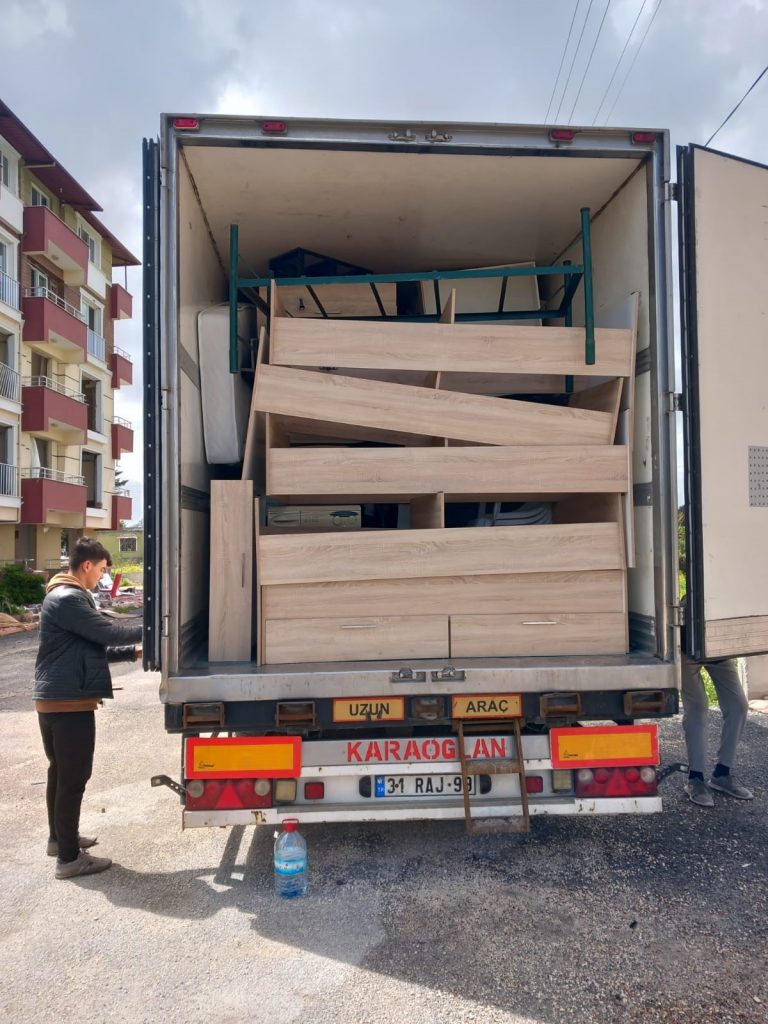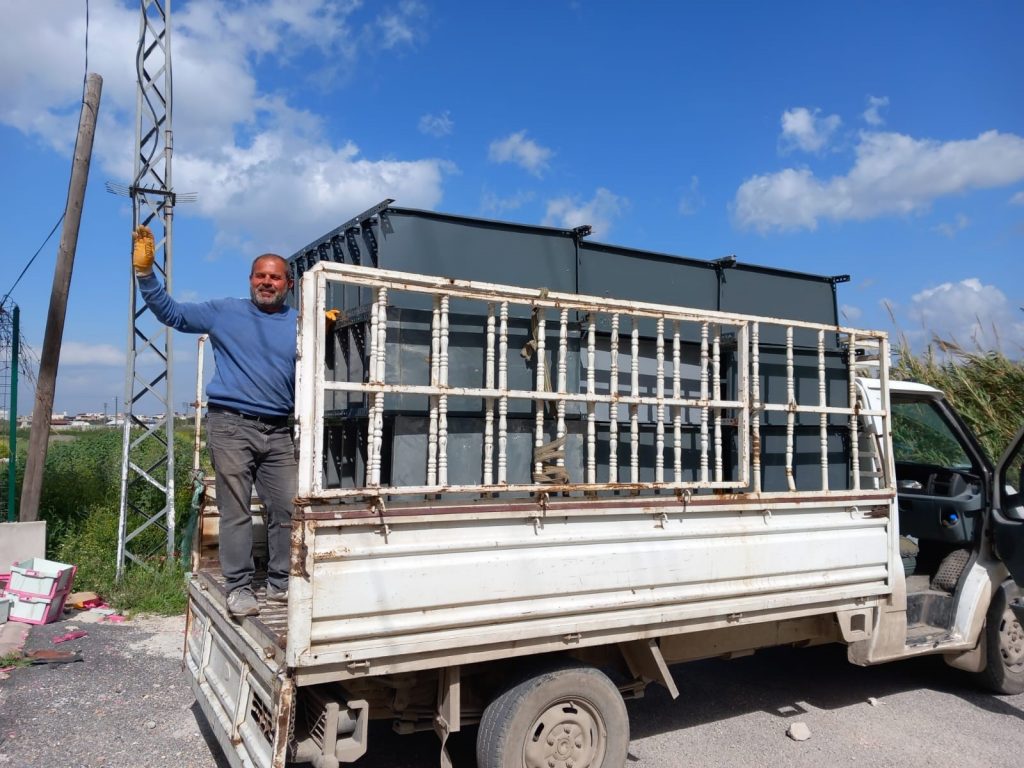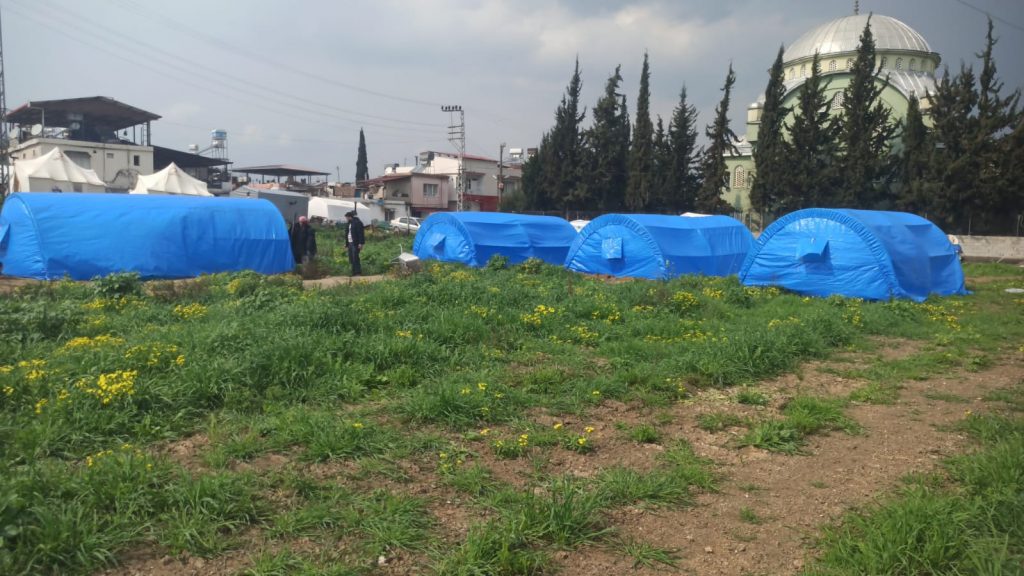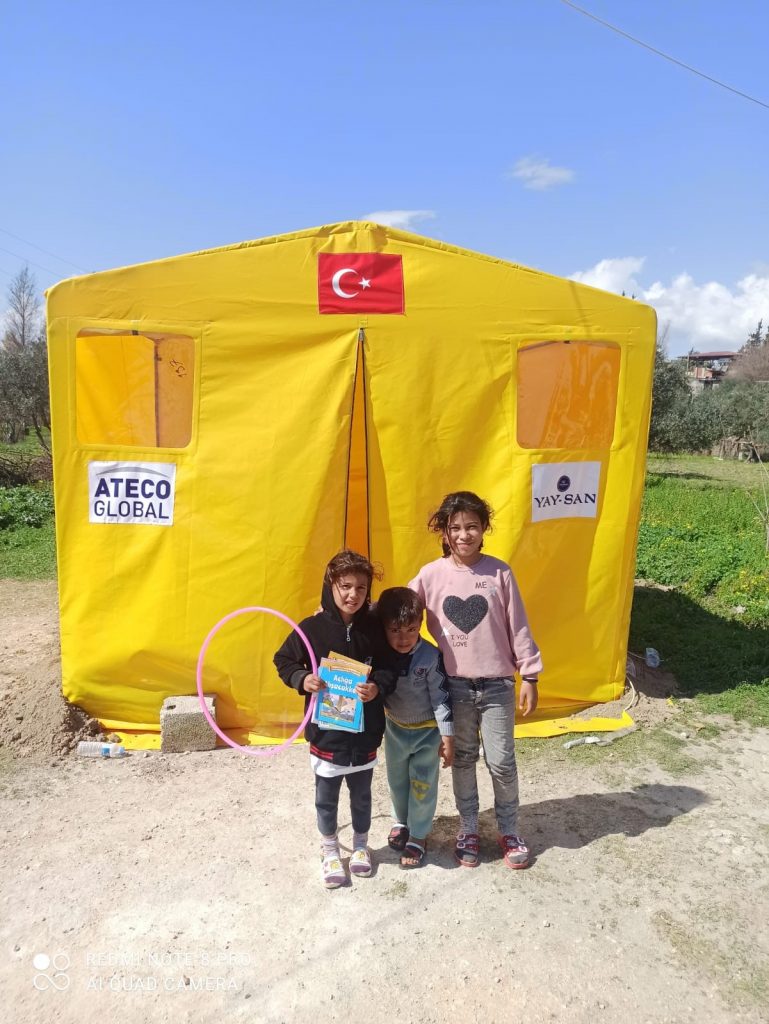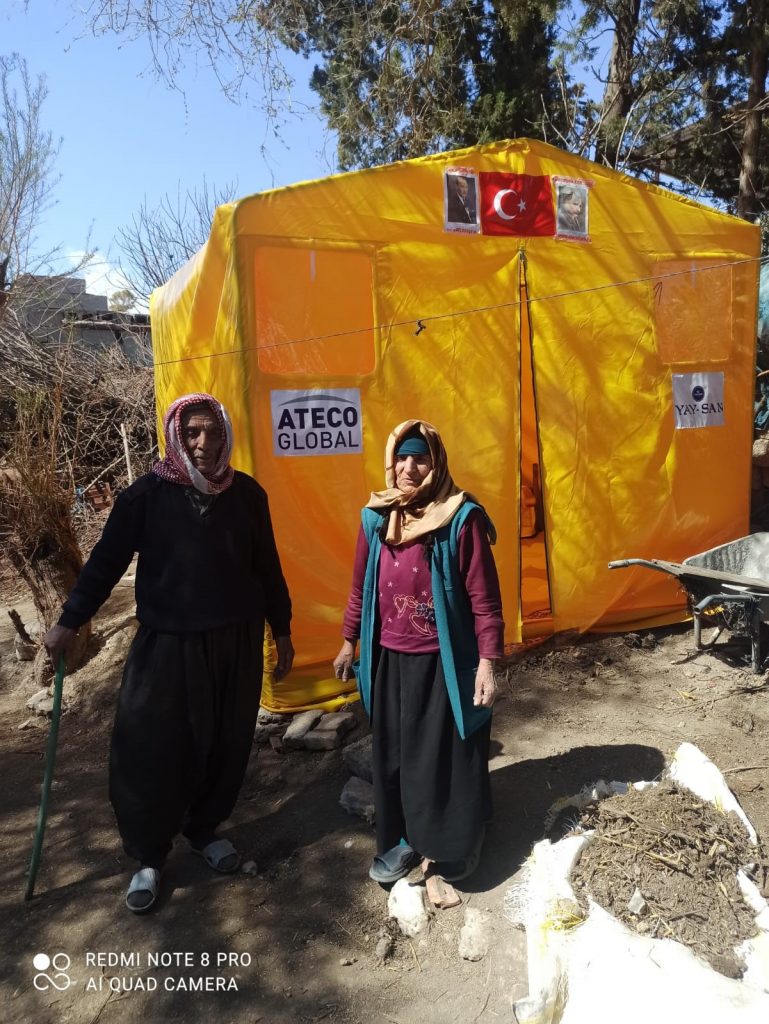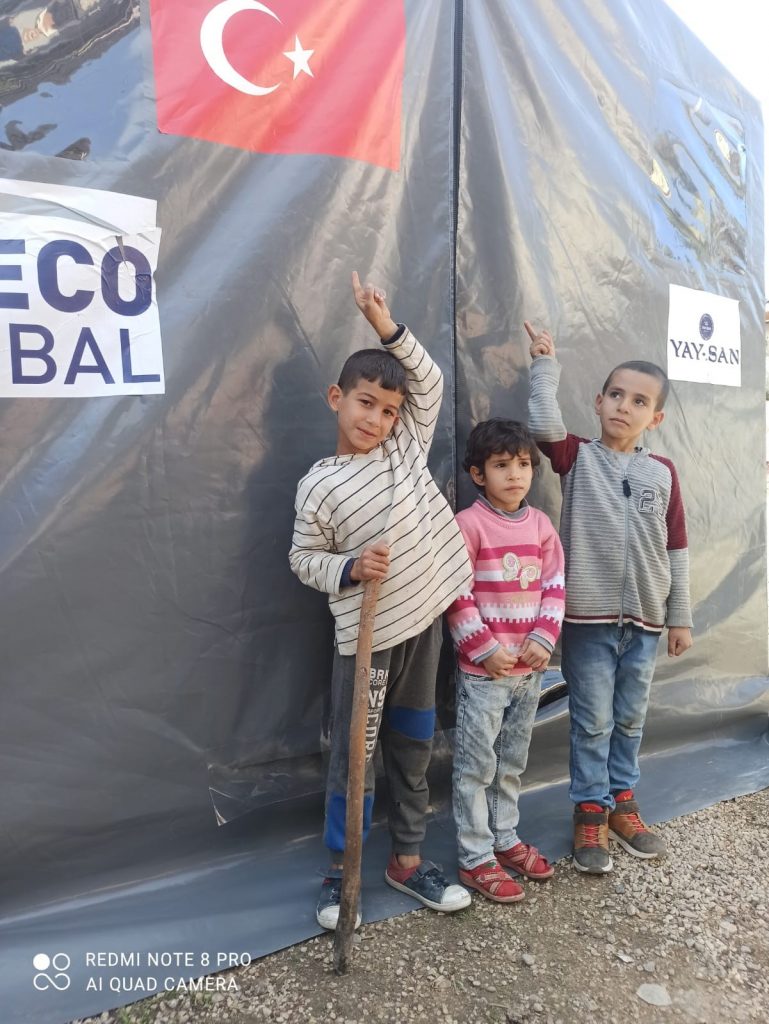 Update #6 (March 8, 2023)
Dear Tayinat Colleagues and Friends,
Much has happened since my last update, including some good news to report. The situation on the ground has begun to stabilize and, as is being reported in the media, the government-led efforts have now shifted fully toward recovery and rebuilding. This of course invariably brings new challenges.
First, the good news. Elif has returned from a second trip to the Hatay. While there she was able to supervise the delivery of two more large shipping containers, which are now being stored in The Atchana Expedition's kazı ev in Tayfur Sökmen, thanks to the generosity of Murat Akar and the Atchana Expedition (see attached photos). These containers will serve as the temporary storage for the Tayinat Depot until a new facility can be built.
While in Antakya, Elif and team were also able to visit the Hatay Museum, and most importantly (for us), the Basalt Lab, which had remained sealed until her visit. To everyone's considerable astonishment, all of the sorting tables (with only one exception), together with their thousands of basalt fragments, somehow had withstood the violence of last month's earthquakes (see photos), as though they had never even happened! This borders on the miraculous. Who could have known that their spindly legged supports were in fact a superb earthquake-resistant design?! Even the female statue appears to be resting intact, and in peace.
Tayinat's displayed cultural heritage has been equally fortunate, in contrast to much of the rest of the Museum's galleries, where there has been extensive damage, both to monuments (fallen sculptures) and its unrivaled mosaics. As has been widely reported, Şuppi survived the earthquakes intact, but so has Tayinat's other (Neo-Hittite!) monuments and artifacts on display. The most prominent of these have now been entombed for safe-keeping for the foreseeable future (see photos).
Meanwhile, the fate of our excavation house remains unclear (it is currently listed as condemned). However, we can be thankful that the Tayinat Depot was removed safely and secured when it was, as the building has since been hit by looters, at least the ground floor storage room (behind the left depot), which has been swept clean of its contents (see photo).
We continue to provide direct financial support to our staff and their extended families, and this past week we collaborated with the Tell Atchana and Tell Kurdu projects to provide tents to families in the local community who are still without housing.
Also, in response to the frequent requests for information, we have begun archiving reports and updates on the Tayinat Project website (https://tayinat.artsci.utoronto.ca/friends-of-tayinat-earthquake-update/). Please feel free to share the link with anyone who might be interested.
All for now,
Tim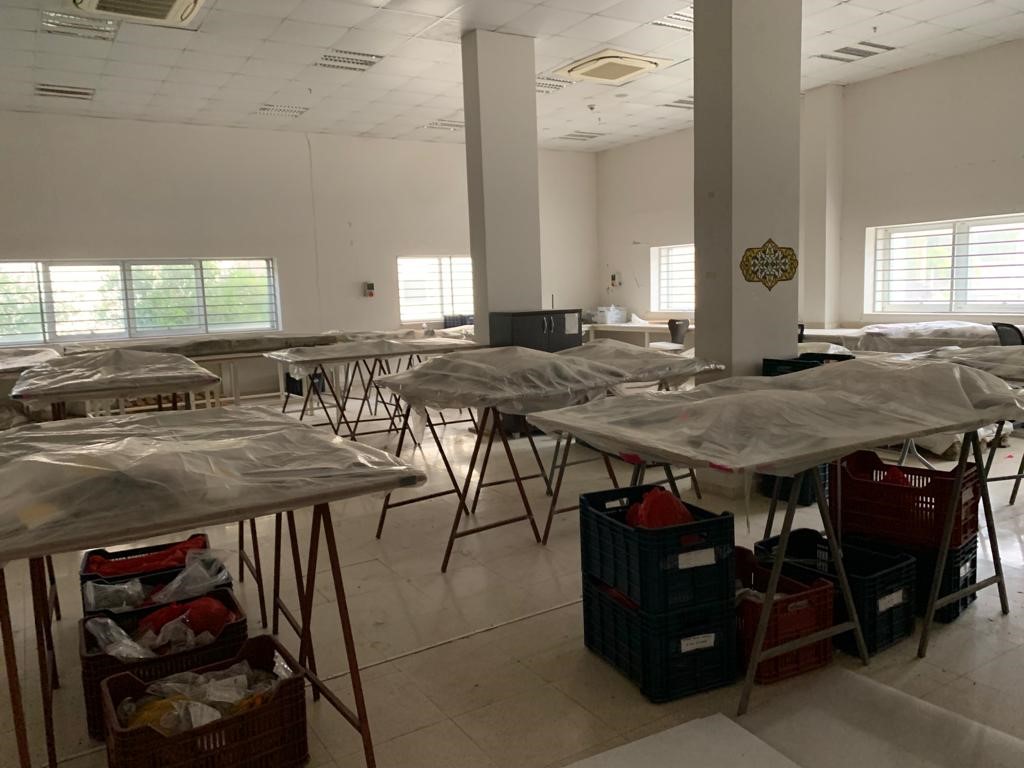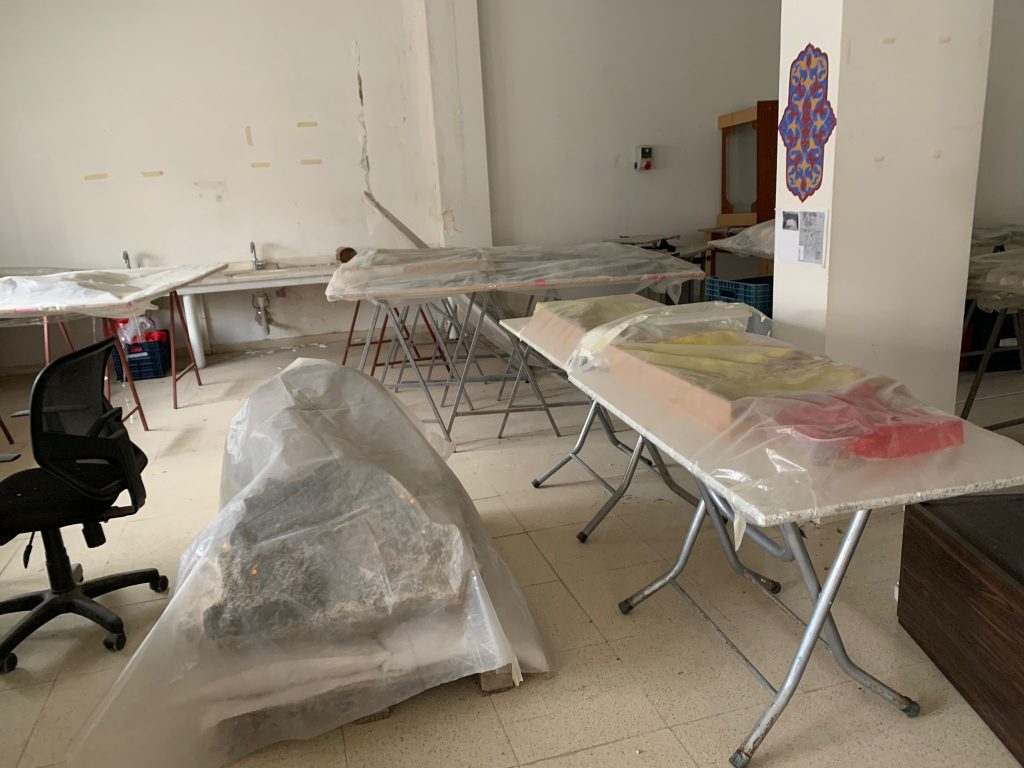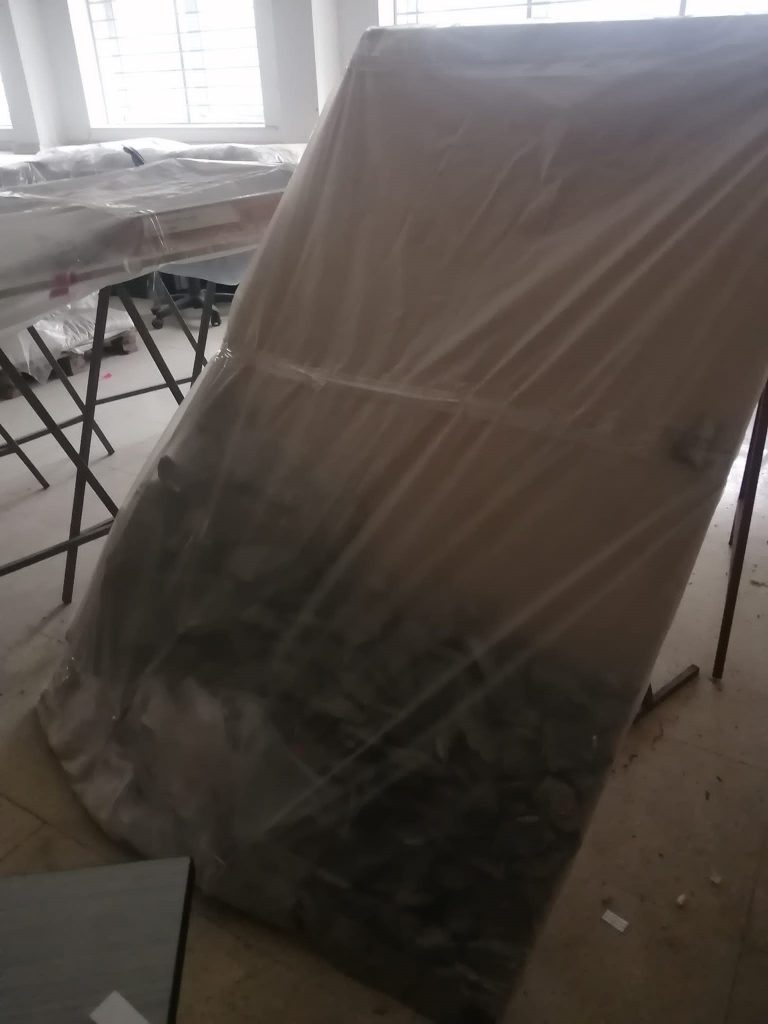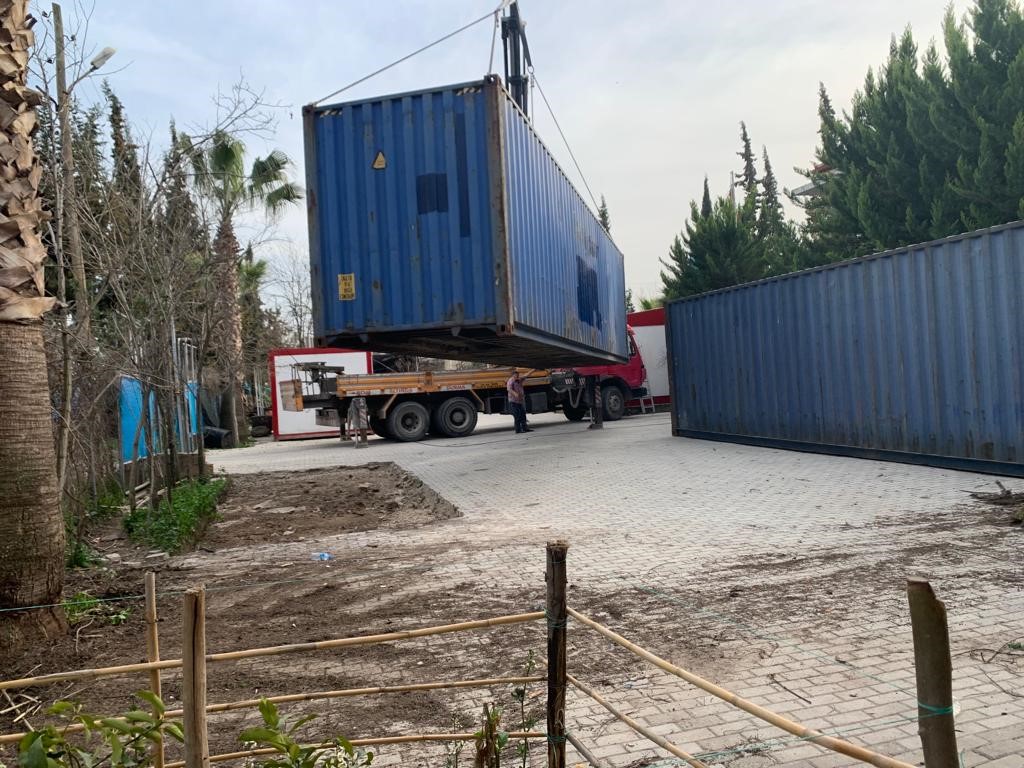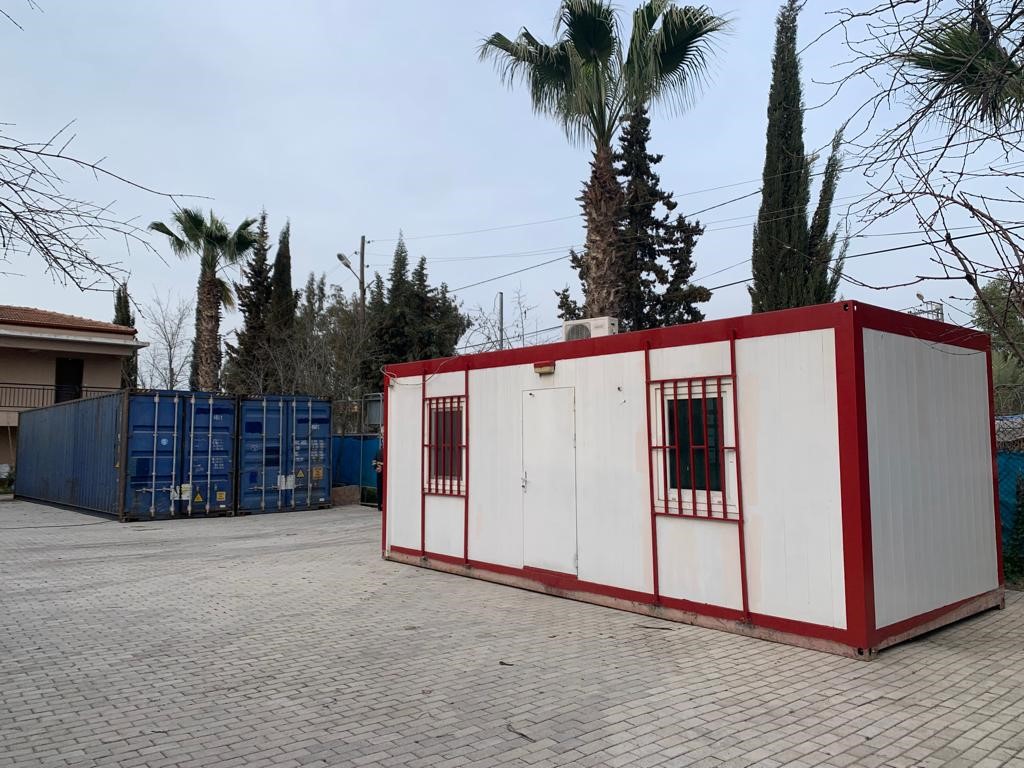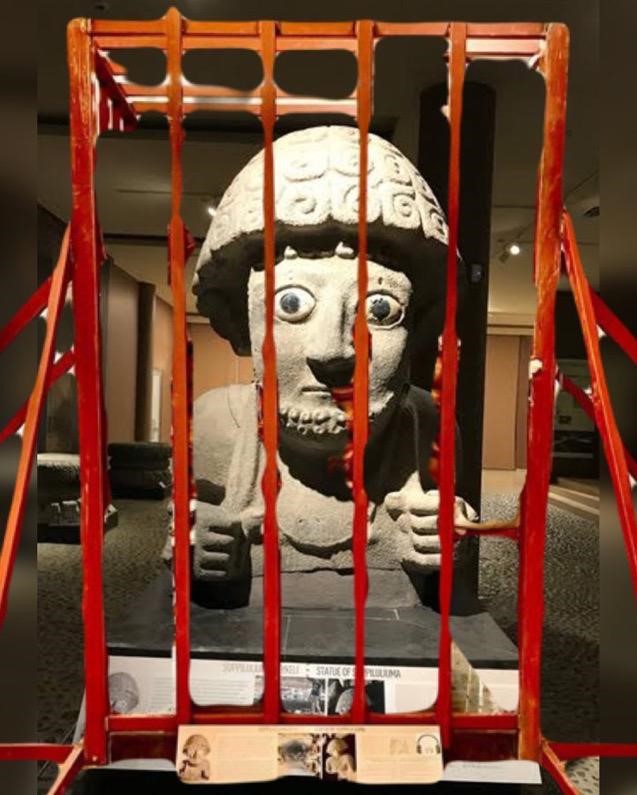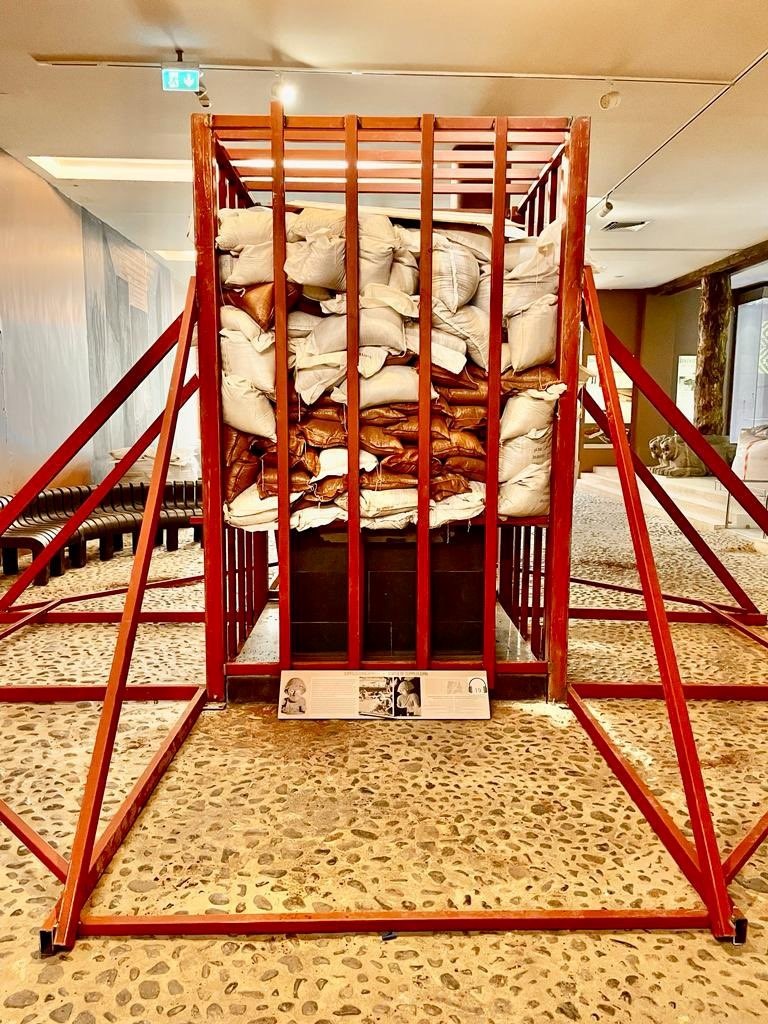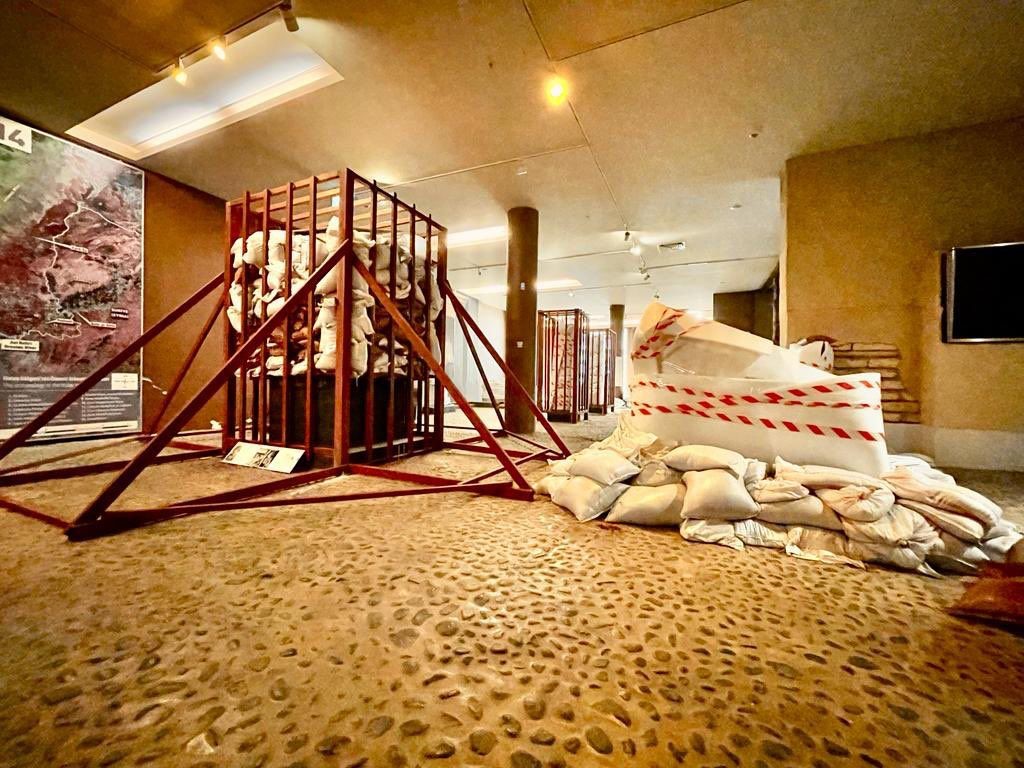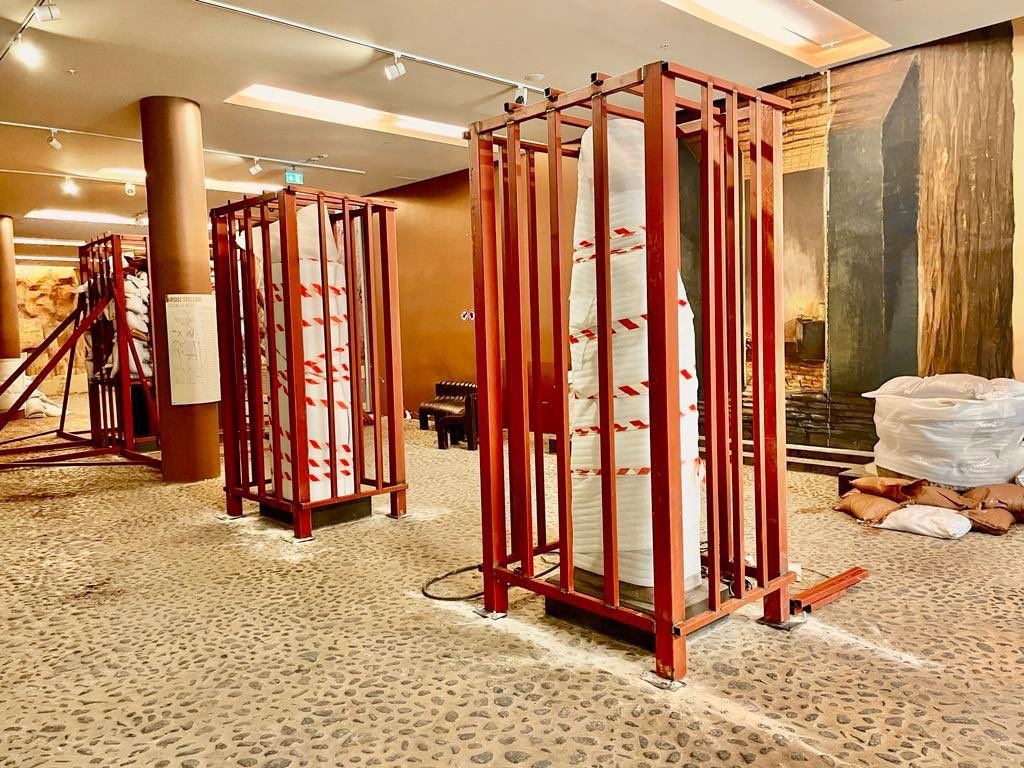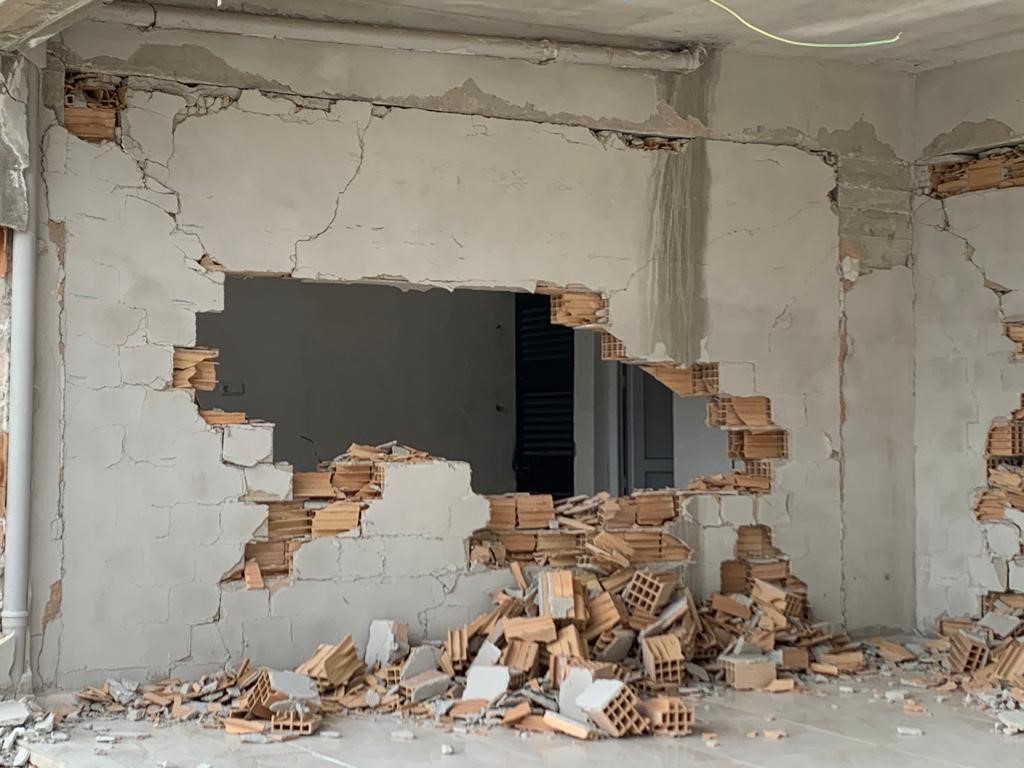 Update #5 (Feb 24, 2023)
Dear Tayinat Colleagues and Friends,
Our team on the ground continues to amaze. Today Elif and Ayşe made their way from Ankara, transported from Adana to Antakya via car provided by our equally resourceful colleagues at Selimgül (who have refused to accept any rental payment). They met up w/ Edip, Filiz, and Rubar, fresh in from Van, and began tackling the shambles that is our depot (see attached photos), focusing initially on the left depot, which contains all of the crates of pottery and bone material. By end of day, they had sorted and organized most of this material, and will begin tackling the right depot, which unfortunately is very likely to be in considerably worse shape.
Tomorrow will also see these depot collections moved into shipping containers and portables, two of which also arrived today, and are now ensconced at the Hatay Museum. One of the portables will be transformed into a residence for Edip, who has been living in his car since February 6th (que references to the Tayfur Sökmen 'Tim Can', or better, the Edip Saray). Edip and Rubar will continue to spend the night in their car at the excavation house, as added protection for the exposed depot, until all the material has been removed to temporary storage in the shipping containers at the Museum.
Elif et al have not yet been shown the Basalt Lab, or interior of the Museum, or the site. There is indeed much yet to see and do. Elif reports that the devastation and destruction is even worse than she had imagined. The city resembles an apocalyptic landscape, devoid of almost all human life.
Concurrent with our depot rescue and recovery efforts, we continue to distribute funds (small grants/gifts) directly to members of the Tayinat community. Please note that 100% of the funds we have received through the GFM campaign are being distributed to the community to assist them in this way. None of these funds are being used to assist in the rescue/recovery of the Tayinat Project's facilities or collections. The need in the community remains staggering. We will continue to assist them through direct financial support as much as we can, and as long as needed, as they begin the overwhelming task of rebuilding their homes and their lives. I urge you to continue to support this effort, and to spread the word through your own contacts and networks.
All for now,
Tim Harrison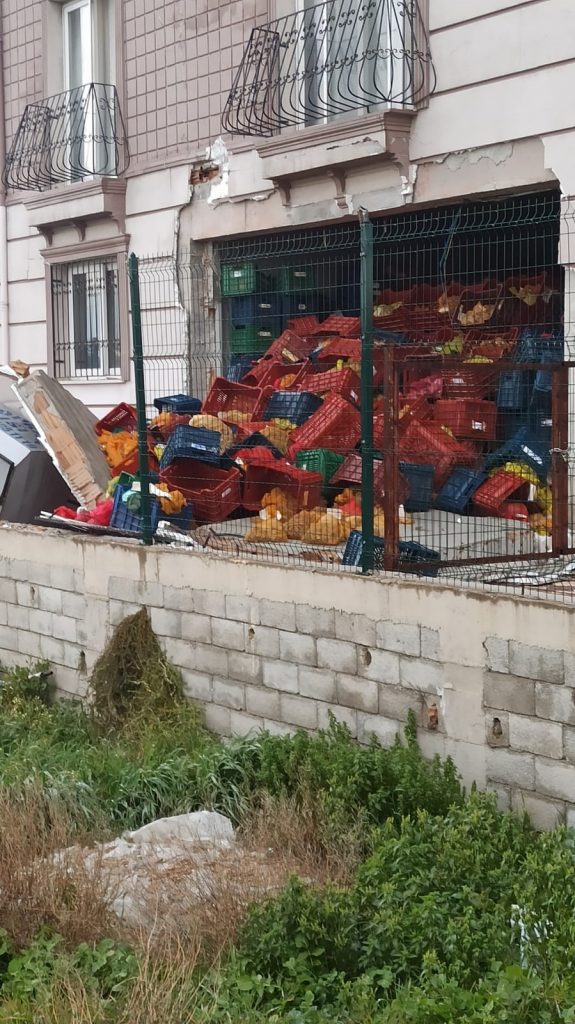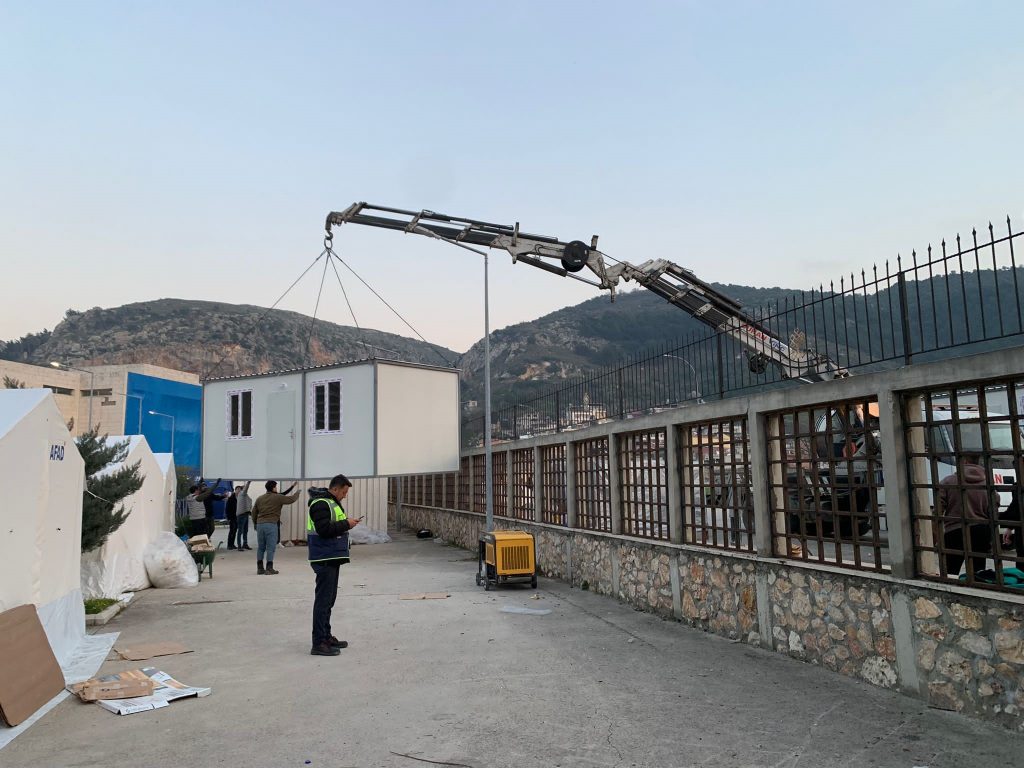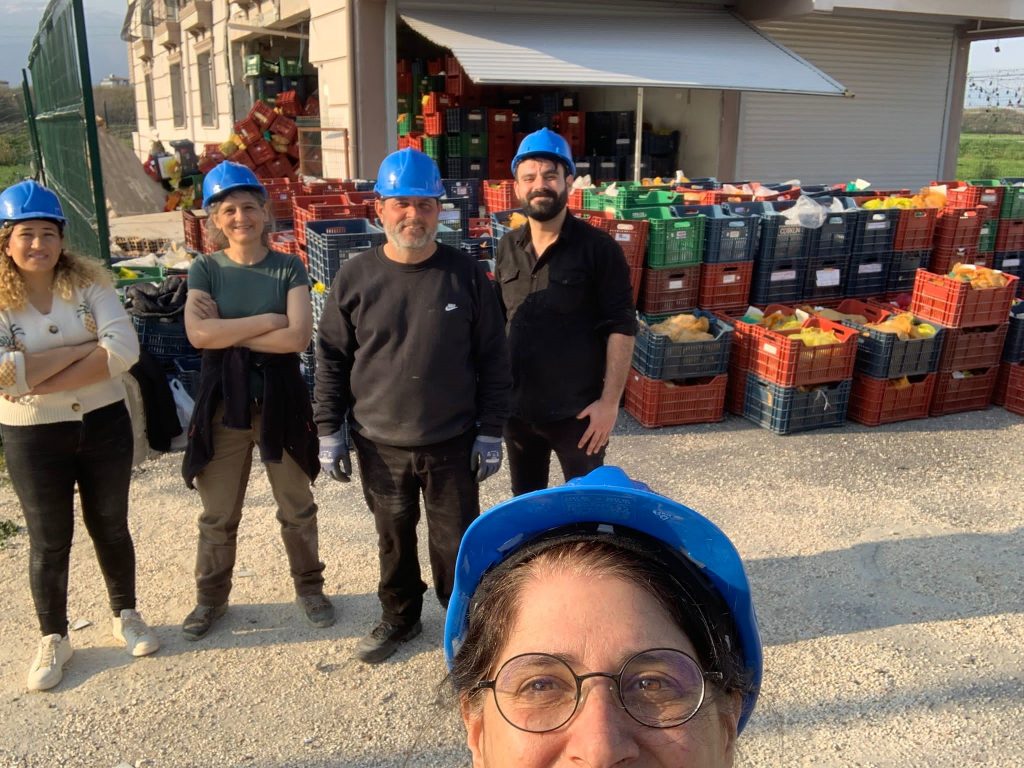 Update #4 (Feb 21, 2023)
Dear Tayinat Colleagues and Friends,
A brief update. Unfortunately, the situation on the ground worsened w/ yesterday's earthquakes, which caused considerable more damage (as is being reported in the media), especially (it seems) to Antakya's historic architecture and buildings. The central hall of the historic Saray (Government House) collapsed, and there was significant damage to displays in the Hatay Museum. Our building (kazı ev) also sustained extensive damage, w/ large sections collapsing, confirming our fears that it had sustained structural damage during the first earthquakes, and this time our depots also sustained extensive damage; they are now in shambles.
It has been an intense day scrambling to locate large shipping containers that we can use to temporarily store and remove the artifact collections from the depot to a secure location. Edip has been a real force, helping to secure the building (armed Jandarme guards are now patrolling the premises), and Elif has been a maestro, locating shipping containers that are now already on their way to Antakya; a truly amazing feat (shipping containers are an incredibly scarce resource at the moment, as you might imagine). Elif and our dear colleague Ayşe Belgin-Henry will shortly be heading to Antakya to be there in time for the arrival of the containers, and to oversee the removal of the depot. I am left in awe and gratitude at the amazing resourcefulness and resilience of our team.
The challenges, and the need, continue to be extensive, indeed overwhelming, but the stories of courage and the ways that people are stepping forward and helping are powerful and truly inspirational. Please continue to support our efforts to raise funds for our colleagues and staff in the local community and spread the word. I am happy to report that we have already begun to provide small grants/gifts to those in most critical need in the community, and we will continue to do so for as long as we can and as needed.
Finally, in closing, allow me to draw attention to a story in today's Hurriyet Daily News (see attached) about our brooding and perhaps puzzled, but intact(!) Şuppi, who has emerged as a rallying symbol for both the Hatay Museum and Antakya; a wonderful cause for celebration.
I will continue to provide periodic updates.
In the meantime, please take care,
Tim Harrison
https://tayinat.artsci.utoronto.ca/wp-content/uploads/2023/02/Damaged-artifacts-moved-to-safe-museums.pdf
Update #3 (Feb 14, 2023)
Dear Friends of Tayinat,
This past week has been a devastating one. I have not experienced the scale of destruction and devastation that we are witnessing in Antakya and the Hatay region in over 35 years of fieldwork, including our most recent work in Mosul. The conditions on the ground are truly overwhelming, and the enormity and scale of the destruction and loss is becoming clearer as the intense rescue efforts of the past week have begun to shift attention toward recovery. We have been in constant, daily contact with our colleagues and friends on the ground, and the situation is truly apocalyptic. While our immediate staff and colleagues miraculously escaped physical injury, all have lost loved ones and members of their extended families; in our own immediate community of Küçükdalyan alone, more than 400 have perished. Virtually every building has been damaged structurally, if not totally destroyed. As I reported last week, our 5-story apartment complex (kazı ev) did sustain damage, and this likely includes structural damage. The archaeological remains and excavation areas at Tayinat have not yet been thoroughly inspected, but a preliminary assessment suggests less damage than anticipated; the cotton factory (circir) has sustained extensive damage. We appreciate that everyone would like to see pictures of the damage and destruction. However, we are very consciously choosing not to include images at this time, out of respect for our colleagues and friends.
In the midst of catastrophe, there is also cause for hope. I have been asked repeatedly over the past week whether I think that people will return to Antakya and the Hatay and rebuild their homes and communities in the face of such a devastating catastrophe. As archaeologists and historians, we know that Antakya/Antioch has experienced devastating earthquakes before in her long and illustrious 2,500-year history, and she has always rebuilt herself. The incredible creativity and vibrant spirit that has characterized Antakyans for millennia, and produced the uniquely rich and diverse cultures that have flourished in this region, point to a hopeful and promising future. We are in consultation with officials and colleagues about how best we might assist and contribute to this recovery effort, and I will communicate those details shortly.
In the meantime, I wish to thank all of you who have rallied to support our friends and colleagues in the Hatay. As of this update, 105 people have donated to our GoFundMe campaign and we are at 80% of our original goal. To have achieved this in such short time is a testament to your collective engagement and support, and it is deeply appreciated. If you haven't yet been able to donate and are financially able to do so, please join us. Every gift helps in a material way but also as a vote of solidarity with our Turkish family.
We also need your assistance spreading the news and bringing sustained attention to the crisis. Here are five things to consider:
Donate to the Friends of Tayinat campaign (https://gofund.me/45720f17) and/or other reputable NGOs you trust. The federal government of Canada is matching donations via the Red Cross until February 22nd.
Spread the campaign via your social networks. The use of hashtags can help attract attention such as #Turkey #Hatay #Hataydeprem #Earthquakeinturkey #Earthquakehatay #TurkeyEarthquake #HatayEarthquake #HelpTurkey #SupportTurkey #TurkeyNeedsUs #TurkeyRelief #StandWithTurkey #HopeForTurkey
Send a personal request out to your own networks to support our campaign – this demonstration of social proof is extremely effective: people give to people they know and trust.
Contact local media to keep up attention and focus on this humanitarian disaster. We don't want to lose momentum as the news cycle inevitably moves on.
Let our respective government representatives know that supporting relief & reconstruction efforts in Turkey & Syria is critical. Good wishes are insufficient. Politicians take note when they hear from constituents; please consider contacting the office of your MP/Congressional representative, etc. Emails, phone calls, letters – keeping up the pressure is vital, and these actions are noticed and can make a tangible difference.
In closing, I want to thank everyone for pulling together during this crisis. It is so much to process and I am sure you are emotionally drained from the relentless onslaught of horrific news. Please take good care and know how much we appreciate you channelling your concern into action.
With kind regards,
Tim Harrison
Update #2 (Feb 7, 2023)
Dear Tayinat Colleagues and Friends,
Further to my email this morning, here are a number of ways that you might help and support the Hatay and Tayinat communities.
If you wish to send funds directly to support the immediate Tayinat community that has been devastated by the earthquake, we have now set up a GoFundMe campaign, the Tayinat Community Disaster Relief Fund (https://gofund.me/402638a3). All funds donated to this campaign will go to support our colleagues and friends in the Tayinat community who have been directly impacted by the earthquake. The funds will be used specifically (and entirely) to help those families who have lost their homes, their possessions, and their livelihoods, by providing immediate relief. We are working closely with experienced and trusted colleagues on the ground to determine where the greatest needs are, and how best to distribute funds; all expenditures will be accounted for following established TAP and UofT reporting procedures. Please note that GoFundMe donations are considered a personal gift, and thus will not receive a tax receipt.
Alternatively, if you wish your donation to be recognized as a charitable donation, you may donate directly to the Tayinat Archaeological Project (TAP) through The Friends of Tayinat Trust Fund (FOT; https://engage.utoronto.ca/site/SPageServer?pagename=donate#/fund/856). The FOT Fund supports TAP's ongoing field operations, in particular the maintenance and preservation of the Tayinat archaeological site, TAP's on the ground research facilities, and the salaries of our local staff who maintain and care for the site and these facilities.
What follows is an additional list of reputable international aid agencies and organizations currently on the ground in Turkey (and Syria) providing aid and support in the aftermath of the earthquake:
AKUT (Search and Rescue Association; https://www.akut.org.tr/en/donation)
Ahbap (NGO helping with search and rescue; https://ahbap.org/disasters-turkey
Doctors without Borders/Medicine sans Frontieres (https://donate.doctorswithoutborders.org/secure/turkey-syria-earthquake-onetime?_ga=2.32310270.1300060608.1675795477-337728999.1675795477&_gl=1*81l9gl*_ga*MzM3NzI4OTk5LjE2NzU3OTU0Nzc.*_ga_C7EW6Q0J9K*MTY3NTc5NTQ3Ny4xLjEuMTY3NTc5NTQ4OS4wLjAuMA)
Global Giving (https://www.globalgiving.org/projects/turkey-earthquake-relief-fund/)
Project HOPE (https://www.projecthope.org/earthquake-in-turkey-syria-how-to-help/02/2023/)
Save the Children (https://donate.savethechildren.ca/site/Donation2;jsessionid=00000000.app20018a?df_id=1571&mfc_pref=T&1571.donation=form1&NONCE_TOKEN=AF3CE47A4A0CC05562F523ECA8D0C4F7)
UNHCR (https://give.unhcr.ca/page/52266/donate/1?locale=en-US)
Union of Medical Care and Relief Organizations, Canada (https://www.uossm-canada.org/earthquake_relief)
Union of Medical Care and Relief Organizations, International (https://uossm.us/earthquake-relief_int/)
Please share the GoFundMe appeal with colleagues, friends, and family, and please also consider supporting the international (and local) disaster relief agencies.
Thank you,
Tim Harrison
Update #1 (Feb 7, 2023)
Dear Tayinat Colleagues and Friends,
In the aftermath of the catastrophic earthquake that has struck southern Turkey, and the widespread destruction and devastation that has ensued in the Hatay region specifically, many have been contacting us asking for information, and how they might help. To coordinate our efforts, provide periodic updates, and (hopefully) better communication, we have created a Tayinat Archaeological Project (TAP) listserv. We have included you as a colleague or friend of TAP. If you know of others who might wish to be included, or if you might wish to be removed from the list, simply email me at tim.harrison@utoronto.ca.
We have been contacting everyone either directly or indirectly involved in TAP, or our larger Hatay community, and thus far miraculously everyone we have been able to reach has escaped physical harm. However, many (if not most) have lost members of their extended communities, and virtually everyone's home has been damaged or destroyed, especially buildings that are 4-5 stories or taller. The TAP dig house residence (5 stories, and newly built, as most of you know) has cracks and has sustained some damage but is still standing; it is too early to know if it is structurally sound. We do not yet know the status of the excavation areas at Tayinat, but there has apparently been damage to the circir (cotton factory), and the newly paved Reyhanli highway has been damaged extensively, particularly the stretch from Tayinat to the Demirköprü bridge.
A particular cruelty of the disaster is that people are understandably now terrified to go back into buildings, and it has been bitterly cold and raining/snowing. Shelter and fuel for warmth have thus become especially critical. Virtually all utility systems have been destroyed, or disrupted, the nearest gas is in Iskenderun or even Adana, hours away, and most communication systems are down or overwhelmed. We are currently working to determine the most effective way to send and provide support to our TAP staff and colleagues in Antakya. Edip Dinç, in particular, has been actively involved in the intense, ongoing rescue efforts, while also checking on Tayinat and our TAP facilities; he will need our active support.
Many have asked how they might help. There are certainly the existing aid groups and organizations, but we are finding that many would prefer to provide help more directly, and we are working to set up ways to facilitate this, especially with funds, and will let you know more shortly.
Yours sadly,
Tim Harrison